Antelope Audio has recently released the Zen Tour, a portable interface with a myriad of features. The smallest member of their audio interface line, it packages the quality and consistency one has come to expect from Antelope into a portable format for songwriters, guitarists, and musicians on the go. Let's unpack some of the features.
Clocking & Conversion
First and foremost, the Zen Tour features Antelope's famous clocking and conversion technologies. It has Antelope's fourth generation acoustically-focused clocking based around a 64-bit DDS oven-controlled crystal oscillator. The converters are no slouch, either; the Zen Tour's A/D converter has a dynamic range of 120 dB and THD + N of -110 dB, while the Zen Tour features two separate D/A sections – one for the monitor section, and one for all other outputs. The monitor converter has a dynamic range of 129 dB and THD + N of -108 dB; the main D/A converter has a dynamic range of 120 dB with a THD + N of -107 dB. The Zen Tour supports sample rates of up to 192 kHz.
Unparalleled I/O
Perhaps the most impressive feature of the Zen Tour is the amount of I/O it features in such a small package. The Zen Tour boasts: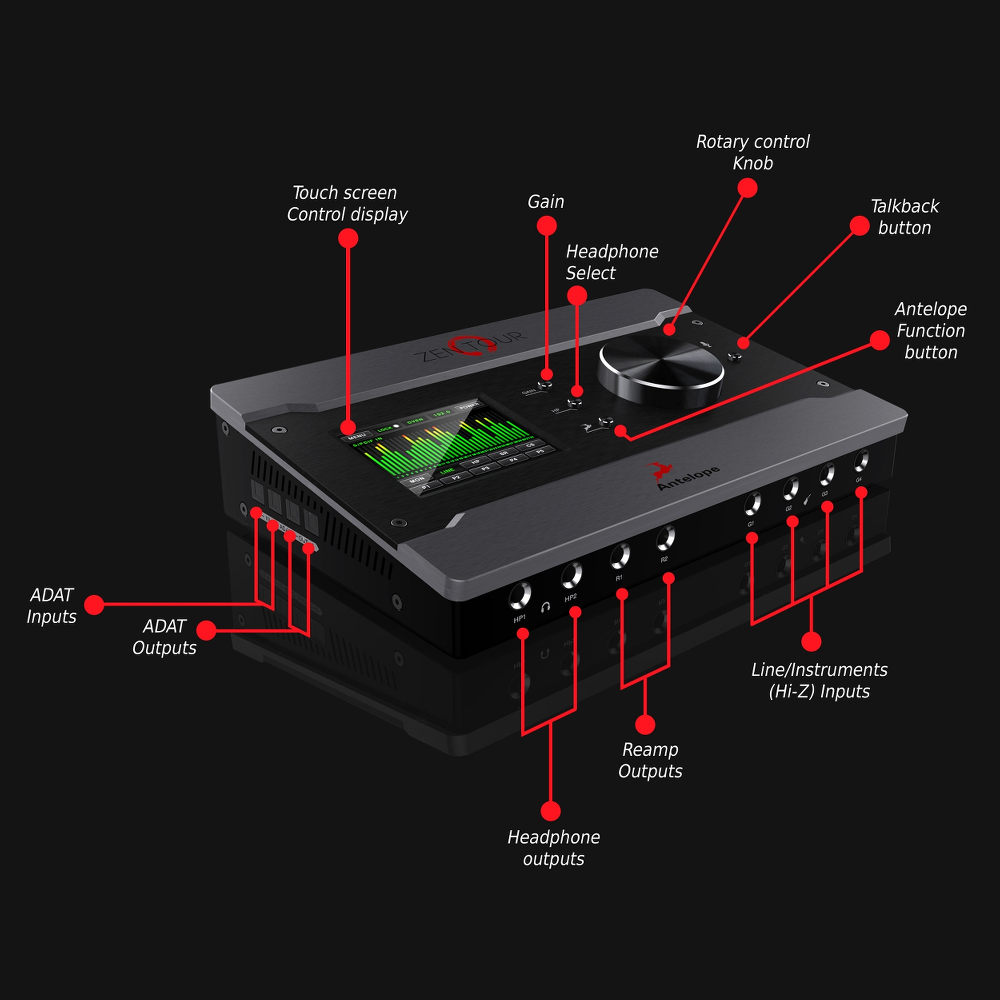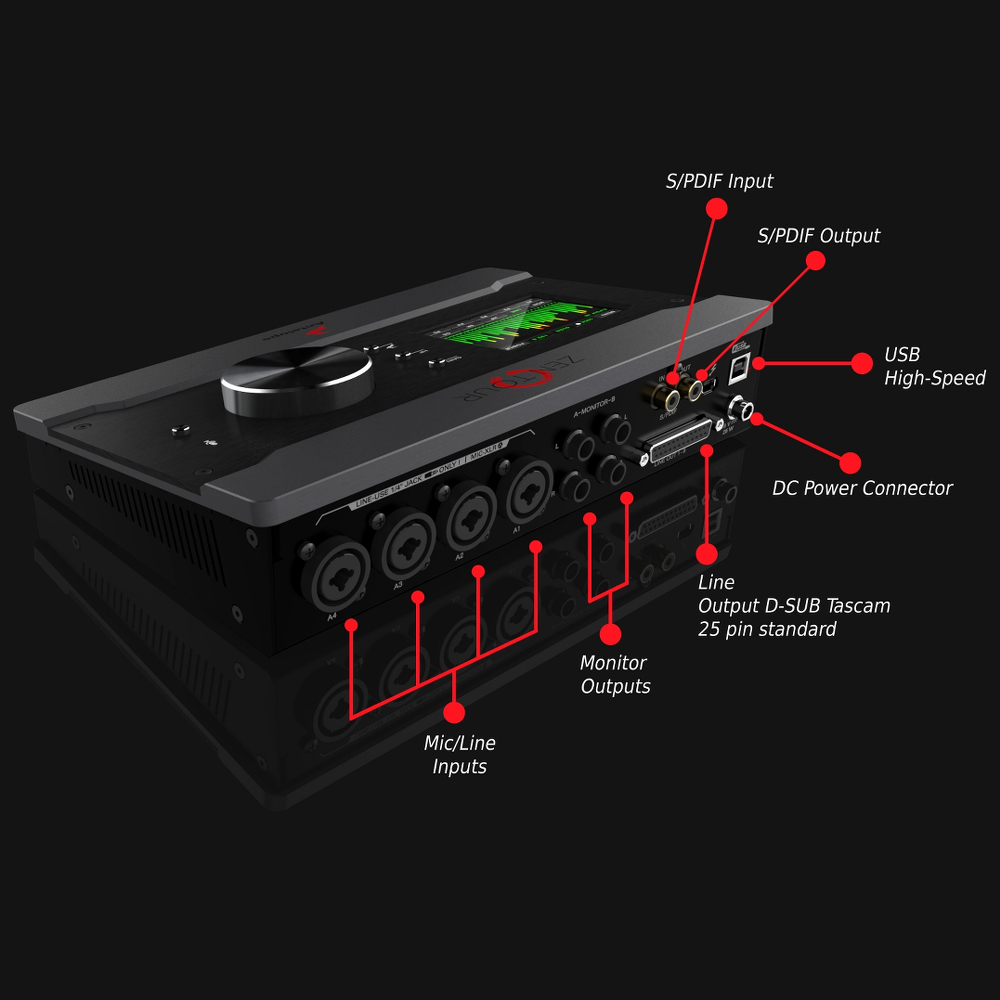 Analog Inputs
4 Mic/Line/Instrument inputs on Neutrik XLR Combo jacks
4 Additional Hi-Z/Line inputs on TRS jacks
Analog Outputs
8 Line outputs on 1 x DB25 (8 channels)
2 Separate monitor sends on TRS jacks (only one active at a time)
2 Stereo headphone outputs on TRS jacks
2 Reamp outputs on TRS jacks
Digital Inputs
2 ADAT (up to 16 channels)
1 S/PDIF
Digital Outputs
2 ADAT (up to 16 channels)
1 S/PDIF
Computer Connectivity
Zero-Latency Mixes
The Zen Tour has the same Field-Programmable Gate Array (FPGA) as Antelope's other studio devices. This allows the user to create mixes and process audio with zero latency. The included Software Control Panel also includes Antelope's brand new hardware-based FPGA effects, including guitar amp and cabinet simulations, vintage-inspired EQ and compressor emulations, and the AuraVerb reverb.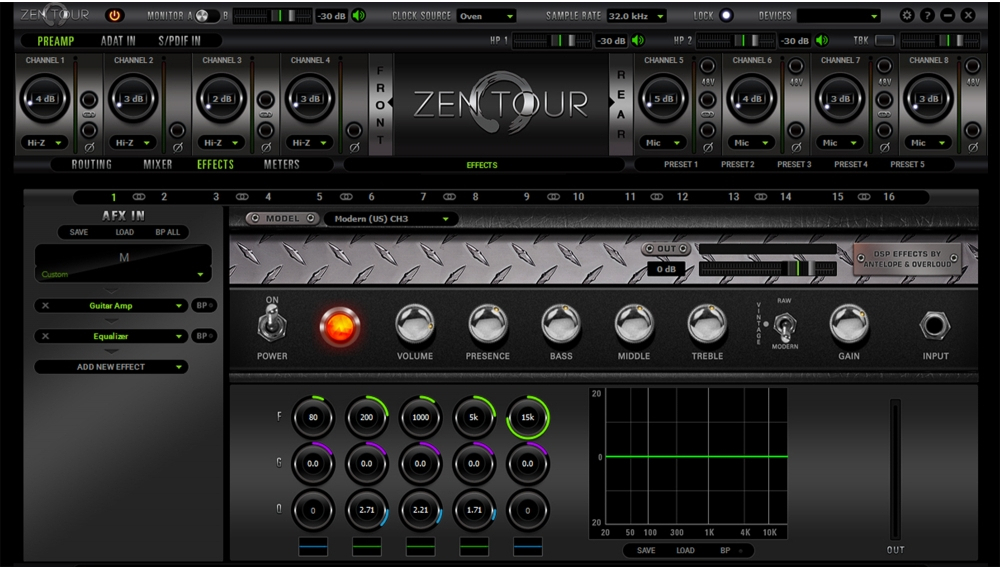 Touch Screen Control
In addition to the Software Control Panel, all of the Zen Tour's features can be accessed from the high-resolution touch screen on the front of the unit. In addition, a future release promises support for mobile apps for both Android and iOS as well as some network functionality.
The Antelope Zen Tour takes the desktop-style interface to a whole new level. If you'd like more information about this exciting new product or would like to place an order, visit the Zen Tour's product page on JSS.net, or contact your JSS Account Manager today!
Ross Ward, Account Manager