With so many in-ear monitor choices out there today, what makes the Future Sonics Ear Monitors any different than the others?
Here at JSS, we are passionate about monitors. It starts at the top with our President and CEO, Jason Spence. Jason has been mixing monitors for over 20 years, with high-profile clients including Keith Urban, Megadeth, Amy Grant, the CMA Awards, Saturday Night Live, and countless others. Whenever possible, Jason reaches for his Future Sonics Ear Monitors to get the job done.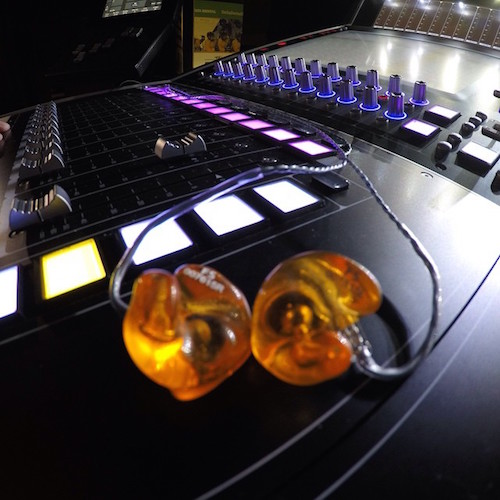 Jason's Future Sonics mg5pro On His Monitor Console at the 2015 CMA Awards (photo by Jason Spence)
While Jason would be the best person from whom to get an engineer's perspective, I would like to give you a musician's perspective on the Future Sonics mg6pro Ear Monitors.
First, a little background on the mg6pro Ear Monitors. The mg6pro is a custom-fit monitor utilizing a proprietary 13mm dynamic driver with a frequency response of 18Hz – 20kHz. It has an impedance of 32 ohms, a sensitivity of 114dB at 30Hz, and +/-20dB of ambient noise rejection. Additionally, it has a vented design, with three different user-replaceable, adjustable frequency vents. It comes with a 50-inch standard cable (also replaceable), and a Future Sonics customized waterproof Pelican 1020 Micro Case, complete with the owner's name etched on the case.
Now, a bit about me. I am a keyboard player in the Tulsa, Oklahoma area, with my primary gig being the keyboard player for Kirk Crossing, an Evangelical Presbyterian Church. I also play on some recording sessions for local studios in a variety of genres. At Kirk Crossing, I've been blessed to work with a group of musicians and technical staff who really care about what we do, and we strive to do our best as we serve the local church. As such, we run a more complicated setup than other churches our size. Our typical Sunday morning channel count usually includes drums, bass, two electric guitars, acoustic guitar, a variety of keyboard sounds and textures (piano, synth, Hammond organ, Rhodes), vocals, and auxiliary loop tracks that often can include more of all of those instruments. Needless to say, our monitor mixes are quite full.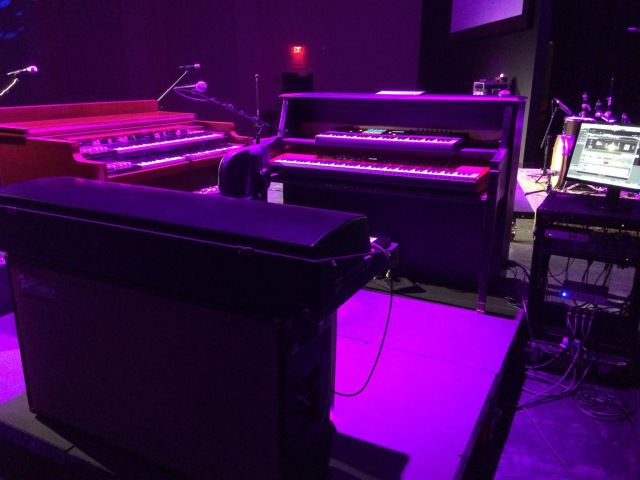 Ross's Keyboard Rig at The Kirk Crossing (photo by Ross Ward)
With so many in-ear monitor choices out there today, what makes the Future Sonics Ear Monitors any different than the others?
The main difference is in the driver technology. The mg6pro has a dynamic driver, meaning that it is a single driver, much like a miniature loudspeaker, as opposed to the balanced armatures used by virtually every other manufacturer. This has two distinct advantages. First, the larger physical size of the driver enables it to better reproduce low frequencies, without needing additional drivers, which can increase the cost. Secondly, and more importantly, having a single driver eliminates the phase coherency issues that are inherently present in balanced armature designs, resulting in a smoother, more cohesive sound.
So how does this translate to the real world? Having had two different sets of balanced armature monitors before my mg6pro Ear Monitors, the difference is dramatic. Because the driver easily handles the low frequencies, even at lower levels, I don't have to monitor as loud. Let's face it – we all like to hear a certain amount of low-end in our mixes, and many of us end up turning our monitors up too loud, thereby negating any advantage we were gaining with them over wedges. Because I can monitor at a lower level, I find that I can wear my mg6pro monitors for a much longer period without my ears feeling fatigued. I've told other musicians that I could wear them all day, and I really do think that is true. Also, the single driver with its lack of crossover points gives me a smooth response across all frequencies and a more accurate representation of the voices and instruments on stage. I especially notice this as a keyboard player, as my instruments arguably have the ability to take up more of the frequency spectrum than anyone else in the band. With my older balanced armature monitors, I never felt like I had an accurate representation of the sound of my digital piano, compared to the sound coming through either the PA system or even a set of nice headphones (both of which are made up of dynamic drivers, by the way). With my Future Sonics mg6pro Ear Monitors, my instruments sound in my monitor mix the same way they do everywhere else.
One additional advantage of the mg6pro Ear Monitors is their ability to be customized for different musicians' needs via the user-replaceable vents. Future Sonics ships the mg6pro with three different sizes of vent (small, medium, and large), allowing you to tune the bass of your monitors "to taste". Often, you'll find drummers and bass players using the largest vents, so they can really hear the "thump" of their kick drums and bass guitars. Guitar and keyboard players often use the medium vents (that's what I use). Vocalists many times will use the smallest vent to really tighten up the low frequencies so they don't cloud their vocal mix. Because you can really optimize the same set of monitors for different applications, the mg6pro is a great choice for the whole band, who may want slightly different characteristics in their monitors, as well as the monitor engineer, who can trust that his or her mix will translate seamlessly to any of the musicians, regardless of which vents are installed.
If you'd like more information, or would like to schedule a time to get impressions made, check out the Future Sonics Ear Monitors and call us today and let us show you how "We Do It Better"!
Ross Ward
Account Manager
615-534-1190 Ext. 5