Posted on
By L. Lasater
Posted in ama, american music awards, axient, beta58, in-ear monitors, ksm, psm1000, Shure, SM58, uhf-r, ur2, wireless microphones

From microphones to in-ear monitors, Shure continues to be the preferred wireless systems for critical live events.
NILES, Ill., Nov. 30, 2015—The 43rd Annual American Music Awards were broadcast on ABC on Sunday night, November 22. Hosted by Jennifer Lopez at the Microsoft Theater in Los Angeles, the program presented the fan-voted honors along with a series of high-profile performances, highlighted by a vocal interpretation of the classic John Williams theme to Star Wars by Pentatonix, and a water-soaked closing medley by Justin Bieber, both using Shure UHF-R® wireless microphones.
Throughout the show, the AMA telecast relied on wireless microphones and in-ear monitors to ensure quick, smooth transitions between acts. While all major brands were on hand to accommodate artist preferences, a decided majority of the RF mics used were Shure systems.
Handling the challenge of making more than 100 RF channels work flawlessly in the crowded RF environment of downtown Los Angeles was a crack production crew of audio experts, led by production mixer Mark King and broadcast music mixers Paul Sandweiss and Biff Dawes. Mikael Stewart (production) and Jim Ebdon (music) mixed front of house sound inside the venue, while monitor mixes for the artists were supplied by Mike Parker and Tom Pesa.
AMA-winning artists performing with Shure wireless mics included Artist of the Year winner One Direction and both Favorite Country Artist honorees, Luke Bryan […Luke's wireless microphone was chromed gold by JSS for the event…] and Carrie Underwood. The UR2 transmitters used throughout the evening were topped by a variety of Shure microphone capsules. Rapper Macklemore and vocal-only sensations Pentatonix opted for premium KSM series mic elements, while the Beta 58® was used by both One Direction and Coldplay's Chris Martin, the latter opting for a Shure Axient® wireless system.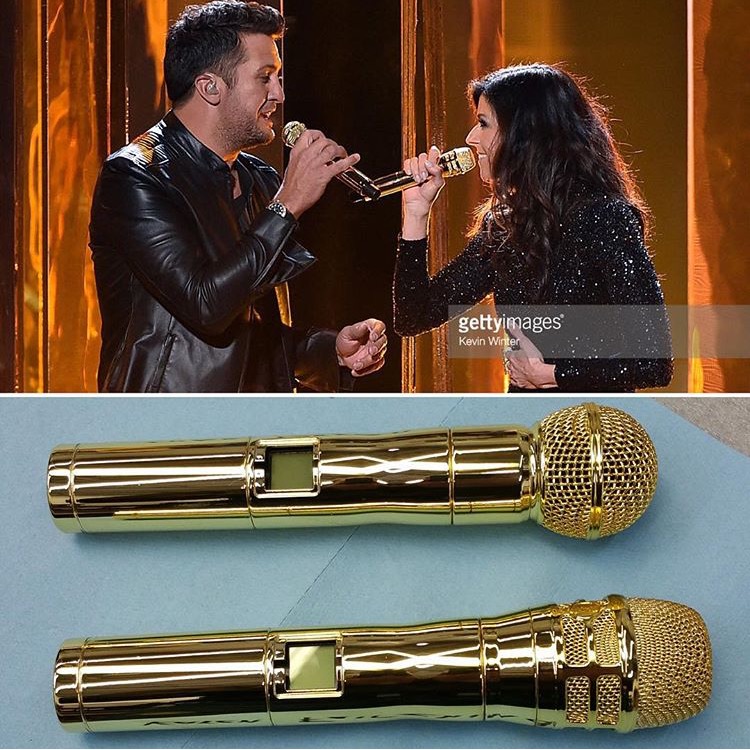 Luke Bryan and Karen Fairchild sing a duet together on Shure wireless microphones custom chromed by JSS. (Photo by Kevin Winter/AMA2015/Getty Images)
Fittingly, the most popular wireless microphone choice among performers was the classic Shure SM58®. It was selected by a diverse group of artists, including Luke Bryan, Selena Gomez, Demi Lovato, Meghan Trainor, Nick Jonas, Alanis Morissette, and Walk the Moon.
The production crew's choice wireless systems for in-ear monitors was universal, with ATK Audiotek bringing 24 channels of Shure PSM® 1000, split evenly between the two stages. With its exceptional RF performance, diversity reception, and superb full-range sound, the PSM 1000 has quickly become the go-to personal monitoring system at live events like the AMAs.
Monitor mixer Tom Pesa commented, "Once again faced with interference from LED walls and the latest and greatest lighting instruments, the PSM 1000 continues to be the preferred in-ear system, as always providing strong RF and great sound under the most adverse conditions."
The racks of wireless microphones and in-ear systems were supplied by ATK Audiotek of Valencia, California, while the RF experts from Burbank and Las Vegas-based Soundtronics were brought in for the complex frequency coordination and custom antenna system required to make it all work together flawlessly.
"When coordinating the RF microphone and IEM portions of a large show such as the AMAs, it's always reassuring to see Shure equipment being requested," says Stephen Vaughn of Soundtronics. "The reliability of Shure's RF equipment is critical in today's world of dwindling RF spectrum. It always puts my mind at ease."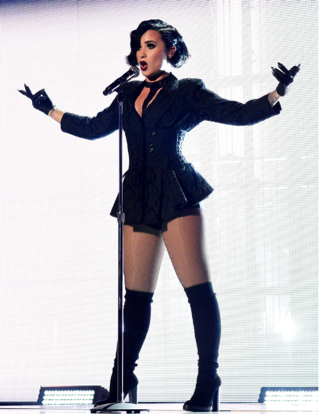 LOS ANGELES, CA – NOVEMBER 22: Singer Demi Lovato performs onstage during the 2015 American Music Awards at Microsoft Theater on November 22, 2015 in Los Angeles, California. (Photo by Frazer Harrison/AMA2015/Getty Images for dcp)
Want to find out more about Shure products or custom chroming? Check out the Shure Brand page at JSS.net or give us call!
---
About Shure Incorporated
Founded in 1925, Shure Incorporated (www.shure.com) is widely acknowledged as the world's leading manufacturer of microphones and audio electronics. Over the years, the Company has designed and produced many high-quality professional and consumer audio products that have become legendary for performance, reliability, and value. Shure's diverse product line includes world-class wired microphones, wireless microphone systems, in-ear personal monitoring systems, conferencing and discussion systems, networked audio systems, award-winning earphones and headphones, and top-rated phonograph cartridges. Today, Shure products are the first choice whenever audio performance is a top priority.
Shure Incorporated is headquartered in Niles, Illinois, in the United States. The Company also has regional sales and marketing headquarters in Eppingen, Germany, and Hong Kong, China, with more than 30 additional manufacturing facilities and regional sales offices throughout the Americas, EMEA, and Asia.