There are many factors to consider when selecting batteries for wireless systems, but what about rechargeable batteries?
Back in 2009 we told you why you should use Procell alkaline batteries in your wireless system, and while we are still a major supporter and seller of Procell alkaline batteries, Shure has an even better solution offering intelligent power management for extended usage times and battery life in their rechargeable batteries.
Don't worry, we did the math for you. Below is a battery comparison graph that shows you the savings using a single Shure Axient rechargeable battery vs. a master case of Procell AA Alkaline batteries.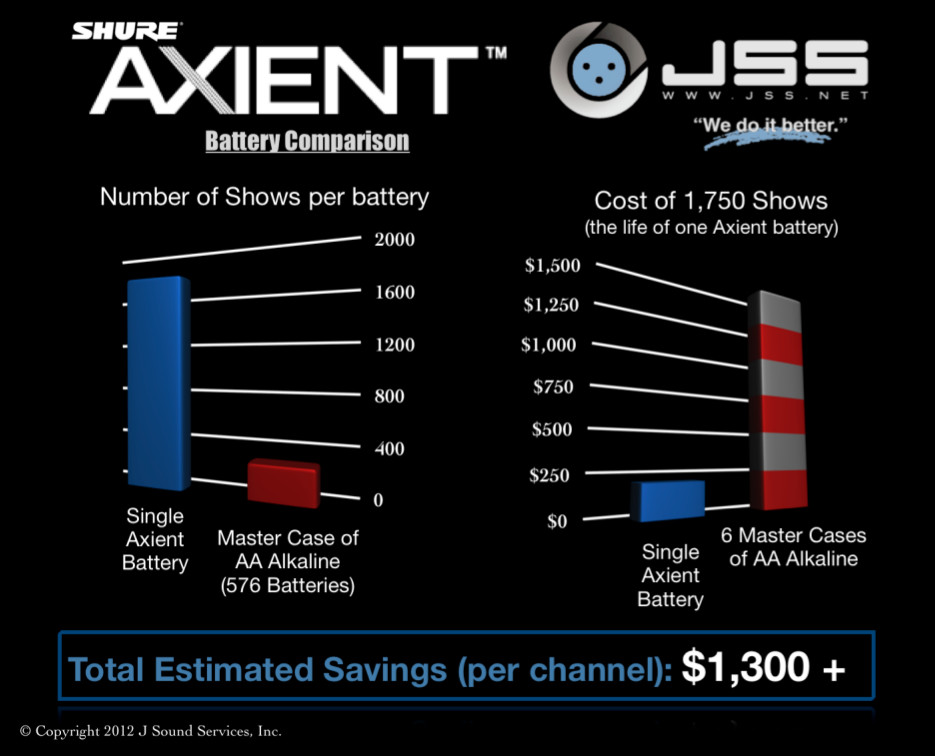 Artist Miranda Lambert recently switched over to Shures rechargeable batteries for her PSM1000s. Here is what her Monitor Mixer had to say about them.
"The rechargeable batteries are amazing. The difference in longevity is night and day compared to regular batteries. I highly recommend rechargeables. I could maybe get a show and the next sound check from regular batteries, but I can get 9-10 hours off a single charge from the rechargeable batteries." – Chris Newsom, Miranda Lambert Monitor Mixer
Please visit the store to see all the available Shure rechargeable products.
P.s. PLEASE RECYCLE! We at JSS are committed to not further damage our environment. If you bring JSS your used batteries we will apply a discount to your next battery purchase at JSS. If you don't bring them to us, we urge you to find a recycling center near you that accepts them. Even if you didn't purchase them from us, we'll still gladly accept and dispose of them properly.
Marq Jaggers
Inside Sales